November 18th, 2011
Development has been slow the past few weeks mostly due to our other jobs and some minor computer issues. We may be releasing a small game or two, most likely for android, before In The Dark is finished. This will help us with our funding issues, and in the long run should speed up development.
We're also trying out a different level creation pipeline that should be a little bit quicker and hopefully result in better levels.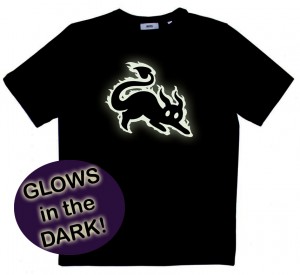 We finally got the Tshirts in! I was going to upload some photos of them, but it turns out glow in the dark stuff doesn't photograph very well. We're really happy with them, and I think everyone we're sending them to will be too. Initially we were planning to sign them, but it doesn't look like thats going to work very well, and that would discourage wearing them, so instead we're going to send them with a signed print. We still have to get something printed up, but hopefully we'll be able to get them shipped by the end of the month. We also have a few extra shirts, which we'll be selling at future conventions and possibly online for anyone still interested in one.